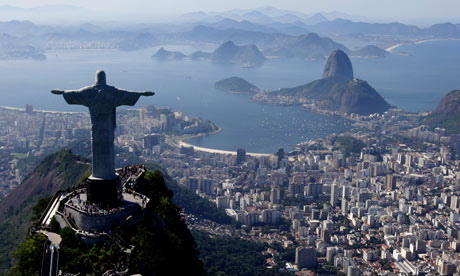 How one woman's six-week trip to the Americas taught her about the social entrepreneurs need to share innovative ideas and learn from international partners

In January last year, I was awarded funding by the Winston Churchill Memorial Trust to explore how social entrepreneurship builds better communities. By the summer, I had excitedly lined up a number of meetings with youth enterprise agencies, technology businesses and women's development groups. In October, I was New York bound and geared up for a six-week trip which, at that time, I thought would show me how social entrepreneurship was really done. That was my personal hypothesis anyway.

Now, I'd picked some rather lovely destinations and it felt like the trip of a lifetime. New York, Toronto, Rio and San Francisco, in six weeks. In those weeks, I was set to meet 35 people, to film them and ask them to share what they do, why they do it and how they measure the impact of their work. I got on the plane to New York, thinking, "It's a tough life." The irony here is that the six-week trip was the hardest journey I've ever made. The realities of poverty, healthcare inequality and threats to human rights that hit me in each place I visited threw my whole way of thinking out of the window from the moment I arrived.

In New York, I spent an hour watching as people bustled through Union Square ignoring a mother and child who were "begging" people to buy their books so the child (who was in a shopping basket) could eat that evening. Not one person stopped. I saw people sleeping on subway benches with their feet taped up with bags for shoes. I've been to New York quite a few times on holidays and yet I realise that this might have been the first time I'd really had my eyes open to the city. During the fortnight I spent there, I met people who run soup kitchens, after-school clubs and community enterprises such as Housing Works. Housing Works is battling the increasing number of homeless people in New York City, all while giving good old American service with a smile at their book stores and thrift shops.

In Toronto, I listened to the history of the White Ribbon Campaign, men against violence on women. Seems logical, right, but the journey of the campaign has been a challenging one and not one that is universally emaced. The mood lightened a little in Toronto when I came across a few unusual suspects such at the Love Letter Project – a project to write and leave love letters to the city in places for people to find – and the Complete Street Band, which teaches kids to play music and then pops up to play music in public spaces, parks and town centres.

My third stop was Rio. The city was abuzz with social enterprise as the Social Enterprise Summit 2012 was on during my time in the city. After the conference I spent time in Paraty with the Quilombo community, and learnt about the struggle that they face to keep hold of land that their ancestors settled on post-slavery.They explained to me that enterprise is keeping their community alive, but only just. They have a community caf, shops and other tourism businesses, enabling them to keep young people in the area and continue their traditions and ways of life.

However, the Quilombo people I met were one of more than 100 groups around Brazil trying to build a future using social enterprise and they believed they were probably one of 10 doing it successfully as they had the rights to their land. Other groups weren't so lucky. Another observation was that a lot of people still work within the cooperative model, and don't consider themselves a social enterprise in the ways we define it in the UK. But there is a big appetite to understand models for delivery beyond traditional charities and cooperatives, especially when working with the most marginalised communities.
See full story on guardian.co.uk
Are You a Social Entrepreneur?
At BillionsRising.com, we believe that social entrepreneurs working with self-reliant people  on local problems will impact the entire planet.
If you have a project that involves self-reliant people doing good or stories of self-reliant people rising up from poverty we'd love to hear what you are doing and share it with the world. Start the by commenting below or reaching out to us.